14 Jan

The reCAPTCHA Was Wrong

Have you ever seen a photo reCAPTCHA?

Instead of a checkbox, it's a low-quality photo split into 16 square sections. It'll say something like: "SELECT ALL SQUARES WITH STREET SIGNS," and you have to click every square that contains a street sign.

At 11 PM on Sunday night, I got one while downloading free stock images. It was a photo of a path through the forest.

SELECT ALL SQUARES WITH PEOPLE.

Okay. That was easy enough. In the center, there was a jogging woman in pink shorts. She took up a few of the middle squares, and I clicked them all.

I pressed VERIFY.

It didn't work.

SELECT ALL SQUARES WITH PEOPLE, the message said again. I took off my glasses, placed them on the table, and squinted at the image.

No. She wasn't the only person.

Several feet off the trail, at the very edge of the image, I could see it. The edge of an arm clad in a black sweatshirt, with a pink thumb poking out.

I triumphantly clicked the two squares containing it. VERIFY.

The image blinked as it refreshed. Then the same text popped up, as if to taunt me: SELECT ALL SQUARES WITH PEOPLE.

I rubbed my eyes and stared at the image.

The trees cast low-resolution, blocky shadows across the path. The woman's ponytail swung to the left, mid-motion. Patches of yellow sunlight dappled the surrounding forest. I studied some of the darker shadows, far from the path; but none of them matched the silhouette of a person.

I glanced to the edge of the image.

No.

The image had changed. The arm at the edge of the photo was now further in the frame, taking up three squares instead of two. Bulky shoulders and dark jeans followed it.

And the jogger was just slightly further down the path – as if she'd just taken a step.

The touchpad was slick under my fingers. My heart pounded in my chest. Slowly, I dragged the cursor over the three squares and clicked them all.

VERIFY.

The image blinked.

SELECT ALL SQUARES WITH PEOPLE.

I leapt back from the computer.

The image was different again. The man was further in the frame, taking up five squares. His hand was stretched out towards the jogger, just inches from her shoulder.

And the jogger…

She was turned towards him, eyes wide. Mouth open in a silent scream.

Click, click, click. I furiously clicked all the squares. VERIFY.

Loading…

SELECT ALL SQUARES WITH PEOPLE.

The man's face was finally in frame.

The hood of his sweatshirt was pulled tightly over his head. A translucent Halloween mask poked out from underneath, pressed against his features.

His hand was latched onto her arm.

She was screaming.

Click, click, click.

VERIFY.

The image disappeared.

I'd passed the reCAPTCHA.

* * * * * *

I reported what I'd seen to the police. At first they thought I was crazy, but as I gave a detailed description of the images, they frantically took notes and asked me questions.

The woman matched the description of a local woman, Kaylee Johnson. She went missing a week ago, during an afternoon jog on the wooded Lakewood Trail.

She was never found.
---
Credit: Blair Daniels (Official Website • Amazon • Twitter • Instagram • Reddit • Official Subreddit)
Publisher's Note: The author requests that anyone who desires to narrate, perform, or adapt this story to any other format, or feature it on a YouTube channel, podcast, or other platform, contact them for permission before doing so. Use of the author's work without this permission is strictly prohibited. You may reach the author here. Thank you!
Check out Blair Daniels' critically-acclaimed collection of short scary stories, Don't Scream: 60 Tales to Terrify, now available on Amazon.com, containing the top-ranked tale, "My AirPods Make Terrifying Sounds" and many more.
I picked up a hitchhiker. Now I'm not sure I'll get home alive.
DON'T SCREAM brings you 60 terrifying tales for your darkest nights. This collection has every flavor of horror, from heinous murders to secret rooms, from sinister virtual realities to unexplained mysteries. Read… if you dare.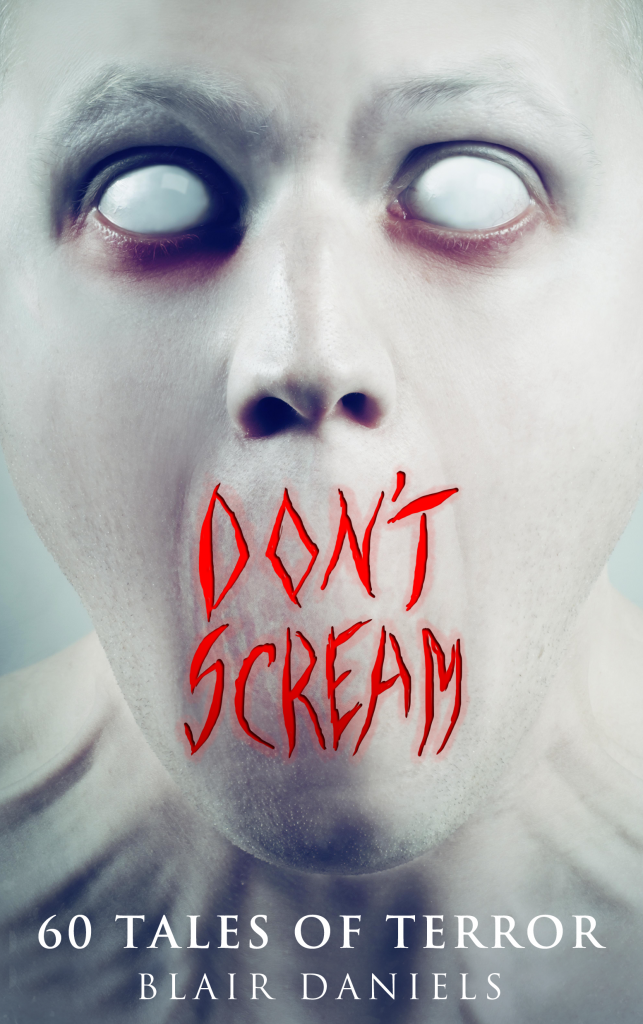 🔔 More stories from author: Blair Daniels
Rate this story:
Creepypasta.com is proud to accept horror fiction and true scary story submissions year-round, from both amateur and published authors. To submit your original work for consideration, please visit our story submissions page today.
Copyright Statement: Unless explictly stated, all stories published on Creepypasta.com are the property of (and under copyright to) their respective authors, and may not be narrated or performed, adapted to film, television or audio mediums, republished in a print or electronic book, reposted on any other website, blog, or online platform, or otherwise monetized without the express written consent of its author(s).
MORE STORIES FROM AUTHOR Blair Daniels