Estimated reading time —

2

minutes
The following images are from the upcoming "Creepy Romance" book by Cosondra Sjostrom. The last few times I've posted about community writers releasing their books or kickstarters for Creepypasta-esque projects it was well-received, and I think that this particular project will appeal to quite a few of you, as well. I wanted to get the word out and hopefully get some more support for this, as it seems like a fun concept with an extra charity aspect… and, selfishly, I want it to be successfully funded because I want the book.
Anyhow.
From Cosondra:
Creepy Romance is a collection of love quotes that are…disturbing yet endearing paired with original artwork from an artist. Over 45+ Artists were assigned a quote and each artist was given free-will to create something inspired by their assigned quote. Proceeds after production costs will be donated to FixNation to help save homeless cats.

Why Creepy Romance? We are all Creeps and We all Fall in Love.
Almost everyone has had that awkward moment when they say something to their lover/object of desire where their intent was to be romantic but somehow accidentally said the most disturbing thing ever.
On to the images! Click the thumbnails to be taken to the full-size versions.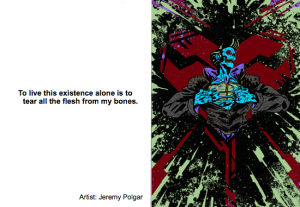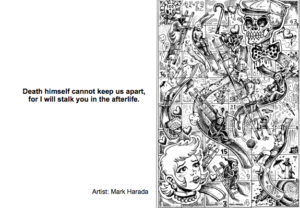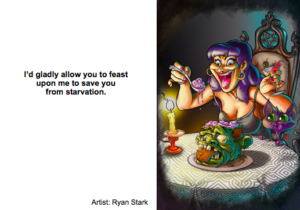 If you're interested in supporting the indiegogo fundraiser for this project, click here – it runs until Dec 23. If you don't want to do any of the fundraiser tiers but you still want to preorder the book, you can do so at the project's Etsy page.
No affiliate links or anything are present here and I'm not involved with this project, I just genuinely thought you guys would be interested in seeing this, so enjoy!
*As an aside, for those of you with smartphones – is this a good thumbnail size for images? It looks a little small on desktop screens, but I wanted it to look okay on tablets/phones as well. 
Copyright Statement: Unless explicitly stated, all stories published on Creepypasta.com are the property of (and under copyright to) their respective authors, and may not be narrated or performed under any circumstance.