26 Jul

Patient Files

This week, I was supposed to digitize all of Dr. Marnen's patient files.

I was feeling good about my progress when I saw it. A second filing cabinet, hiding behind the shelves, that I'd never noticed before.

Sighing with fatigue, I yanked open the first drawer. I plucked out a file from the 'A' section and began to read.

ABERDEEN, CARLA

"Alright, Carla, let's see if you're in the system." I set the file on the desk, sat down at the computer, and typed in her name.

Nothing came up.

Oh, hell no. I am not doing ALL the files in this cabinet. But I sighed, opened a new patient file, and began copying the data. Carla Aberdeen… DOB 4/24/72… 5' 9", 176 lbs…

Finally, I got to the doctor's notes. They were written in messy script, as if in a hurry. I put on my glasses, and read:

– Complaints of eczema

– Itchiness after eating some fruits

– Lungs may be useful

I stopped and re-read the last line.

Lungs may be useful

I shrugged, figuring it was some sort of mistake or reference to something. I typed it into the computer and took the next file from the cabinet – a Mr. David Akowski.

But the doctor's notes were even stranger, this time.

– Family history of heart attacks

– Large skin surface area

I typed him into the system and stared at the screen. Large skin surface area? What does that even mean?

When I got to the next one – a Miss Katerina Alanson – I felt the knot in my stomach tighten. It was a file for a little girl, and it read:

– Night terrors ever since sixth birthday

– Mom says increased anxiety

– Feet are perfect size

I rolled away from the computer. Heart pounding, I picked up the file and studied it. There must be an explanation.

But I couldn't think of anything.

I took a deep breath. Then I picked up the phone, and dialed the number on Katerina's file. But what will you say? I didn't even know. I just had a terrible, nagging feeling, and wanted to do something about it.

But I wasn't in luck.

Boop-boop-boop!

We're sorry. You have reached a number that has been disconnected –

"What are you doing?"

I whipped around.

Dr. Marnen was standing in the doorway, his arms crossed over his white coat. "I was digitizing the files. Like you told me to," I stuttered, slamming the phone down.

"Not those files." He violently grabbed the files from the desk, shoved them back into the file cabinet. Then he pulled a small key from his pocket and turned the locks on each drawer. Click, click, click.

"Finish this up, okay?"

I nodded.

And then he was gone.

The silence pressed in. The waiting room was empty and still. I checked the clock – 4:45. No more patients would be coming in.

It was only Dr. Marnen and me in the office now.

So I did what any reasonable person would do. I shut down the computer, grabbed my coat, and started for the door. As I hurried towards the exit, I saw Dr. Marnen at the end of the hall.

He was opening a door – the door he told me went to the supply closet.

But beyond him, I could see a set of stairs, snaking down into the darkness.
---
Credit: Blair Daniels (Official Website • Amazon • Twitter • Instagram • Reddit • Official Subreddit)
Publisher's Note: The author requests that anyone who desires to narrate, perform, or adapt this story to any other format, or feature it on a YouTube channel, podcast, or other platform, contact them for permission before doing so. Use of the author's work without this permission is strictly prohibited. You may reach the author here. Thank you!
Check out Blair Daniels' critically-acclaimed collection of short scary stories, Don't Scream: 60 Tales to Terrify, now available on Amazon.com, containing the top-ranked tale, "My AirPods Make Terrifying Sounds" and many more.
I picked up a hitchhiker. Now I'm not sure I'll get home alive.
DON'T SCREAM brings you 60 terrifying tales for your darkest nights. This collection has every flavor of horror, from heinous murders to secret rooms, from sinister virtual realities to unexplained mysteries. Read… if you dare.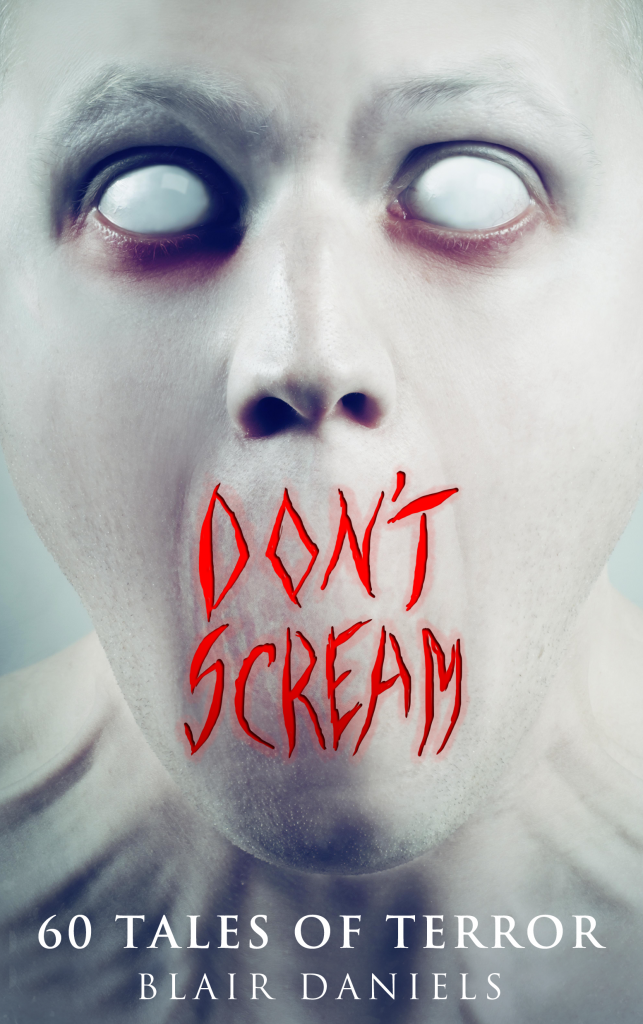 🔔 More stories from author: Blair Daniels
Rate this story:
Creepypasta.com is proud to accept horror fiction and true scary story submissions year-round, from both amateur and published authors. To submit your original work for consideration, please visit our story submissions page today.
Copyright Statement: Unless explictly stated, all stories published on Creepypasta.com are the property of (and under copyright to) their respective authors, and may not be narrated or performed, adapted to film, television or audio mediums, republished in a print or electronic book, reposted on any other website, blog, or online platform, or otherwise monetized without the express written consent of its author(s).
MORE STORIES FROM AUTHOR Blair Daniels
Ding! I jolted awake. My phone lit up on the nightstand. It showed one new notification: Motion detected at your doorstep. 3:17 AM. My ...
Read Now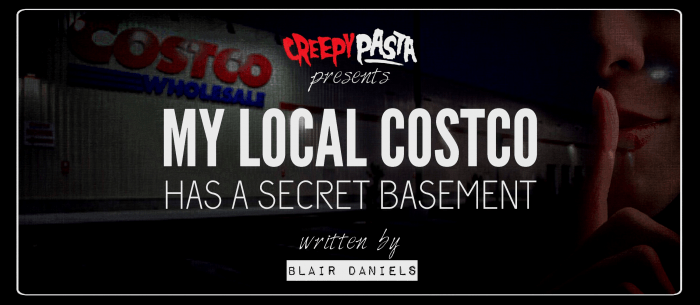 My husband is dying. Despite his good prognosis after the accident, he gets weaker every day. When he became unable to even say my ...
Read Now
I was driving through rural New Jersey when I saw him. A hitchhiker, standing by the side of the road. Surprisingly well-dressed – black ...
Read Now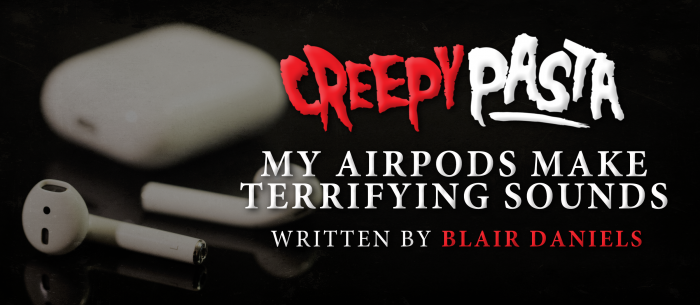 I first wore the AirPods to the Stop and Shop. It was an incredible, other-worldly experience. I listened to the soothing voice of Neil ...
Read Now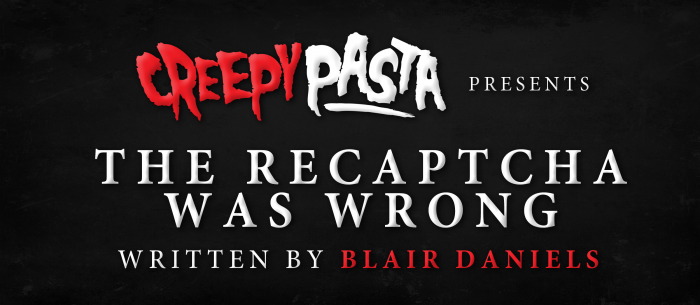 Have you ever seen a photo reCAPTCHA? Instead of a checkbox, it's a low-quality photo split into 16 square sections. It'll say something like: "SELECT ALL ...
Read Now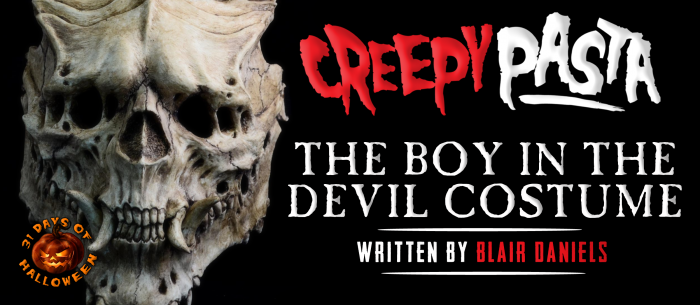 I hate Halloween for many reasons. I have to answer the door every ten minutes. I have to pretend like I'm excited to give ...
Read Now