04 Jun

The Prophetic Monolith

Somewhere in the Pacific ocean is an island, surrounded by a swamp filled with the carcasses of fish and other, less recognizable things poking out of the mud. The mire extends as far as you can see.
Every so often, the mud will dry enough under that you can walk on it; about a days travel from shore is a large mound, at the top of which is an immense canyon, the bottom of which cannot be seen, although if the moon is large enough you will be able to see the slope of the canyon, and eventually the bottom, which is covered by a strange body of water. Rising from the water is a monolith, which is covered in bas-reliefs.

Those who have seen in related that everything carved onto the surface of the great monolith was a depiction of every major event that happened from the beginning of time: From the destruction of the dinosaurs to the black plague, all the way up to 9/11 and the Iraqi war. Even stranger, people have stated many seeing depictions of events that had not yet happened. When questioned further, the majority would merely shake their head, refusing to elaborate.

However, the others who dared speak would all say something [mostly] similar to, "Just let it happen. It can't be stopped, anyhow."
🔔 More stories from author:
Rate this story:
Creepypasta.com is proud to accept horror fiction and true scary story submissions year-round, from both amateur and published authors. To submit your original work for consideration, please visit our story submissions page today.
Copyright Statement: Unless explictly stated, all stories published on Creepypasta.com are the property of (and under copyright to) their respective authors, and may not be narrated or performed, adapted to film, television or audio mediums, republished in a print or electronic book, reposted on any other website, blog, or online platform, or otherwise monetized without the express written consent of its author(s).
MORE STORIES FROM AUTHOR Anonymous
My name is Tom. I am a sound designer for video games. I love my work and I have been doing it for quite ...
Read Now
[MESSAGE BEGINS] We made a mistake. That is the simple, undeniable truth of the matter, however painful it might be. The flaw was not ...
Read Now
Coffins used to be built with holes in them, attached to six feet of copper tubing and a bell. The tubing would allow air ...
Read Now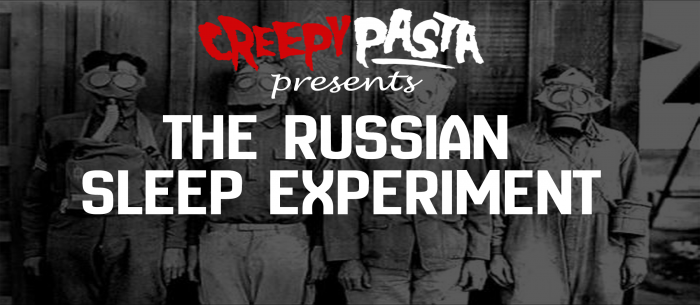 Russian researchers in the late 1940s kept five people awake for fifteen days using an experimental gas based stimulant. They were kept in a ...
Read Now