06 Sep

The Hazards of Dating

Dating sucks as an adult. The only way to meet new people is either on the internet or in a bar, and I'm not comfortable trying to start a relationship with someone I've come across in either of those scenarios. At 28 years old, not being romantically interested in any of my unmarried friends or coworkers, I figured I was just doomed to be single the rest of my life.

But then I met her.

I was walking home from my favorite local comic book store, nose buried in my newest purchase, when I walked straight into the woman of my dreams. Her piercing blue eyes crinkled a bit at the corners as she laughed at my bumbling apology. She looked down at the ground briefly and tucked a bit of her dark brown hair behind her ear before looking back at me and sticking out her hand.

"I'm Miranda," she cooed as I shook her hand. She was beautiful, and I was hooked.

Introductions turned into small talk, small talk turned into conversation, and before I knew it, my watch informed me that we had been sitting on the grass next to the sidewalk for 2 hours chatting. I regretfully announced that I needed to get home, then nervously asked Miranda if she would like to meet me the next night for dinner. She agreed, and we set the time and place for our date.

I was over the moon the rest of the night and most of the next day. My nerves kicked in on the way to the expensive Italian restaurant we decided on. It suddenly occurred to me that we hadn't even exchanged phone numbers. What if she was just being polite and had no intention of coming? What if she was in an accident or her car broke down and she couldn't make it? A million scenarios raced through my head as I began to sweat and my heart started to race. My stomach was in knots when I walked through the doors of the restaurant, but the bad feelings fell away as soon as I saw her standing in the corner wearing a purple dress that perfectly complimented her slim figure.

The hostess looked at me funny when I asked for a table for two, and my anxiety perked up again. My panic had left me sweaty, and I was suddenly aware that I had run my fingers through my hair a few times while in transit. I must have looked a mess despite my nice pants and shirt. I used my hands to ensure my hair was put back into place and wiped my forehead with my sleeve as I followed the hostess and my date to a table in the corner of the eatery.

The date went amazingly well. Miranda let me order for both of us, telling me that she trusted my judgement. We chatted and laughed through the meal like we had known each other forever. The world around me could have been in shambles and I wouldn't have noticed; I loved being with her so much.

Of course, the joy of new love was short-lived, otherwise I wouldn't be posting this here, of all places.

We decided to go for a stroll through the nearby park after I paid the bill. I worked up the courage to reach for her hand as we happily walked along the concrete path lit by soft yellow lights. My fingers linked with hers, and just as I felt how cold her skin was, I noticed that she had stopped talking and the air around us had grown tense.

My first thought was that I fucked up. I looked at her, already asking if she was alright.

She changed. Her skin had turned a bluish-gray, marked with deep purple bruises around her throat. The left side of her face was so rotted away that I could see her teeth through her cheek. The bright blue of her eyes was now covered with a milky film, and they stared at me with a hatred so deep that even the bravest soldier would have likely cowered.

I choked on a gasp and tried to back away, but she strengthened her grip on my hand so that I could only move as far as our combined arms' length. My fingers throbbed and the muscles in my hand and wrist started burning while I tried to pull free from her grasp. Her fingers were so decomposed that I could see tendons and bone, but they were strong. Inhumanly strong.

My yells for help echoed off the surrounding trees. I pulled with all my might, but Miranda wouldn't let go. She just stood there in her dirty tattered dress, staring at me like I was the worst form of scum. My heart was beating so hard that I could feel it pounding from my chest to the top of my head. Tears streaked down my hot face. I stopped yelling. Even if my labored breathing allowed the effort, I knew no one could hear me. I fell to my knees, forcing myself to stare at the ground instead of the rotting woman before me. I begged in between panting:

"Please, please don't kill me."

Miranda started laughing then. Not the musical laugh that had hypnotized me earlier, but a deep, menacing cackle that made me shiver. When she stopped, she crouched down so that we were face to face. She tilted her head, the bones in her neck cracking and popping with the movement, and grimaced.

"I said the same thing, you know. Didn't help me one bit."

She brought up the hand that wasn't on the verge of breaking mine and stroked my cheek, leaving a sticky trail of rotten blood behind as her skin tore on contact. Once she met the base of my jaw, the tender gesture ended and she wrapped her hand around my throat. She pushed me to my back and brought her other hand to my throat as well as she straddled me. I gasped and fought, alternating between trying to push her off of me and attempting to pull her hands away. The edges of my vision grew hazy, the picture of her ghoulish complexion blurred, and I was sure I was about to die.

Just before I lost consciousness, she lowered her face until it was just inches from mine and screamed. I brought my hands to my ears to try to block out the piercing shriek and shut my eyes tight. After a brief moment, I realized that the pressure around my throat was gone and I could breathe again. I rolled onto my side, coughing and rubbing my throat, as Miranda's screams faded into echoes.

She was gone.

I laid on the ground for a few minutes until my breathing and heart rate returned to a semi-normal state, then I ran to where I had parked my car at the restaurant and drove home.

It took a few days for the bruising around my neck to heal, but physically, there was no permanent damage done. I counted my blessings, and haven't gone on a date since.
---
Credit: Christine Druga (Facebook • Tumblr • Reddit)
Rate this story:
Creepypasta.com is proud to accept horror fiction and true scary story submissions year-round, from both amateur and published authors. To submit your original work for consideration, please visit our story submissions page today.
Copyright Statement: Unless explictly stated, all stories published on Creepypasta.com are the property of (and under copyright to) their respective authors, and may not be narrated or performed, adapted to film, television or audio mediums, republished in a print or electronic book, reposted on any other website, blog, or online platform, or otherwise monetized without the express written consent of its author(s).
MORE STORIES FROM AUTHOR Christine Druga
No one knows where it came from. No one knows why it showed up in our little town, of all places. The only thing ...
Read Now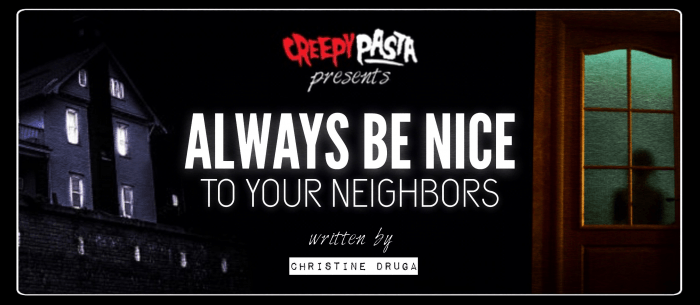 When someone asks you about your dream home, how do you respond? It might be an apartment in a big city, a big house ...
Read Now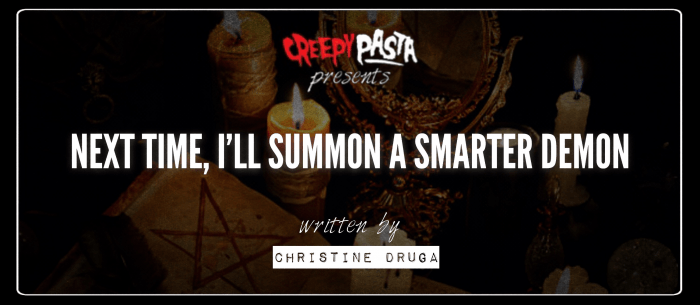 I drew the pentagram and symbols on the hardwood floor, lit the candles, and recited the spell that was written in the ancient leather-bound ...
Read Now