IMPORTANT NOTE: Yes, I'm aware that some users have issues with not being able to swap between mobile and desktop themes. There are a few reasons that this can happen, so please try these steps before leaving comments about it:
Clear your cache if possible.

You might have the wrong version of the site cached, and your brower is simply serving you the old cached version.

Turn off any ad blocking extensions that you might use.

I'm not entirely sure why this works – my theory is that the adblock extention somehow is blocking the script that swaps between the themes – but I've had people say that doing this solved their issue.

If neither of those work, please leave a comment with your user agent.

This website uses a caching module to cut down on resource usage. For mobile browsers, I have to manually block those user agents from being served a cached version of the web page. So for example, if you're on a phone but it's not a user agent that has a caching exception, the site may try to continually serve you the same version of the index because that's the version the site cached last. The cache is automatically renewed every so often, so this is why sometimes the problem seems to solve itself. Leaving a comment with your user agent will allow me to ensure that your mobile device is exempt from being served a cached page; and if the error persists even with your user agent as an exception, I can report this error to the mobile plugin developers. If you need help figuring it out, please visit

What's My User Agent

and copy/paste the results.
Anyhow, on to the original post:
A few of you have sent me emails wanting me to make a less data-heavy, more streamlined version of the site for people browsing by phone, since the normal site can be a bit unwieldy and costly for mobile users to browse.
If you're a mobile reader, you should already have noticed that this has been done! Now, for both creepypasta and crappypasta, the site should auto-detect that you're on a phone and give you portable version of the site.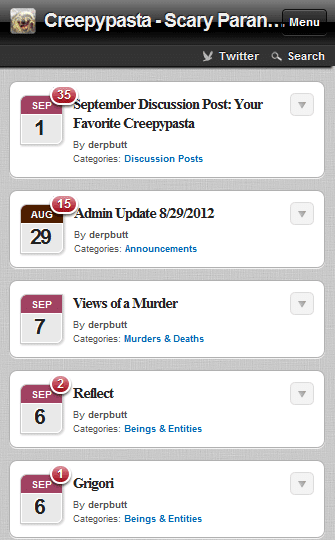 If you don't like it (or if you're one of those unlucky people whose browser likes to randomly show you mobile versions of sites for some reason), just scroll down to the bottom. You should see this:
As you can probably surmise, hitting the 'off' button will magically transport you back to the original version of the site that you all know and (hopefully) love. No need to freak out or leave panicked comments, it's okay! You can get back to normal with the click of a button.
Now, for mobile site navigation, it's pretty simple. Hit 'Menu' and you can easily access all the pages, tags, and categories that you're used to. Unfortunately, plugins like popular posts, random posts, recent comments, etc can not be accessed via the mobile theme at this point. Sorry.
That's about it. I just wanted to announce this so that you guys know that I *do* listen to your feedback (and also to calm some of you who are getting the mobile theme and freaking out about the 'new creepypasta'). Now, I don't actually have any sort of decent phone for web-browsing myself, so I'm having to rely on previewing this through developer tools in Safari. If you find that anything is ridiculously broken, please do let me know.
And please don't neglect the original theme when you're browsing on PC. Even if you don't click anything or buy anything through our affiliates, those ads are what pay the hosting bills! Without them, there would not be a site. That's the sad truth of the internet.