28 May

16 Choices

Every individual will make 16 choices in their lifetime that will forever alter the course of humanity. No more than 16, no less than 16. These choices will be small, and at the time of decision, will mean nothing. They won't have to be choices which result in action, they could be choices that result in inaction. But months, years along the way, when the full impact of your decisions and the chain reaction of events they have caused are felt… you may have been the one who caused the end of the world. And you will never know.
🔔 More stories from author:
Rate this story:
Creepypasta.com is proud to accept horror fiction and true scary story submissions year-round, from both amateur and published authors. To submit your original work for consideration, please visit our story submissions page today.
Copyright Statement: Unless explictly stated, all stories published on Creepypasta.com are the property of (and under copyright to) their respective authors, and may not be narrated or performed, adapted to film, television or audio mediums, republished in a print or electronic book, reposted on any other website, blog, or online platform, or otherwise monetized without the express written consent of its author(s).
RELATED POSTS YOU MIGHT ENJOY:
MORE STORIES FROM AUTHOR Anonymous
I used to live in New Jersey in an old Victorian, right in the smack dab middle of the boonies. Where I lived, cell ...
Read Now
Posted: January 11th 2013, 9:02 PM Hey, I'm still kind of new here. My name's Matt, and I'm looking for an old game that ...
Read Now
Belief is a powerful thing. Well, not your belief: your opinions couldn't be less important. But there is someone, and there always has been ...
Read Now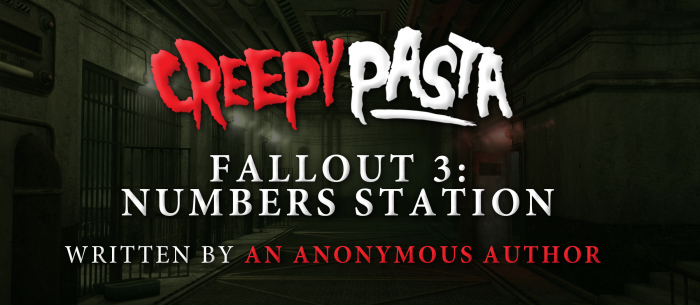 Fallout 3 contains several in-game radio stations. The most diverse and important station is Galaxy News Radio. Many players of the evil persuasion know ...
Read Now
You wake after a wild night of partying to find that while you were wasted, for some reason you had a crude smiley face ...
Read Now
"On tonight's episode of Ghost Gang we investigate the Hibbard Point lighthouse, one of the most active paranormal sites in New England. Built in ...
Read Now