02 Apr

The Static

If you are watching television, and the signal cuts out to static, turn the TV off immediately. If you watch the static on TV for long enough, the static will suddenly pause. All sound in the room will cease; even the white noise of the TV itself will disappear. If this happens you must not look away from the screen. You will probably not notice at the time, before you lose your gaze on the TV, your body will freeze as well. Time around and with you have paused completely. Specks of the black and white dots slowly come to life, creeping slowly in seemingly random directions. Not static as you know it, but organizing themselves into a moving picture again in front of you. As the static returns to normal, and the white noise of the TV comes back, you will regain control of your body. You must never watch that television again. It will only play static, even when unplugged. If you watch the static any longer, these same events will reoccur, but with disastrous results. What exactly happens is unknown, as it is obvious that anyone that has been unfortunate enough to experience this has disappeared. It is rumoured that if one continues to watch the static again, or during their experience, looks away, the white and black specs will slowly start to move again, but you will not. Your eyes will then be permanently fixated on the screen as you watch the picture come back to life, and what seems to be your station's signal return. You learn soon this is not the case, as all sound is still absent, and the picture on the TV shows a familiar surrounding: the room in which you sit. The only thing you see next is movement on the TV, as you see yourself from behind, and subsequently, the cause of your disappearance.
🔔 More stories from author:
Rate this story:
Creepypasta.com is proud to accept horror fiction and true scary story submissions year-round, from both amateur and published authors. To submit your original work for consideration, please visit our story submissions page today.
Copyright Statement: Unless explictly stated, all stories published on Creepypasta.com are the property of (and under copyright to) their respective authors, and may not be narrated or performed, adapted to film, television or audio mediums, republished in a print or electronic book, reposted on any other website, blog, or online platform, or otherwise monetized without the express written consent of its author(s).
MORE STORIES FROM AUTHOR Anonymous
Once, there was a boy who loved to read. He read everything he could get his hands on, and loved going to his favorite ...
Read Now
There was a hunter in the woods, who, after a long day hunting, was in the middle of an immense forest. It was getting ...
Read Now
[MESSAGE BEGINS] We made a mistake. That is the simple, undeniable truth of the matter, however painful it might be. The flaw was not ...
Read Now
Coffins used to be built with holes in them, attached to six feet of copper tubing and a bell. The tubing would allow air ...
Read Now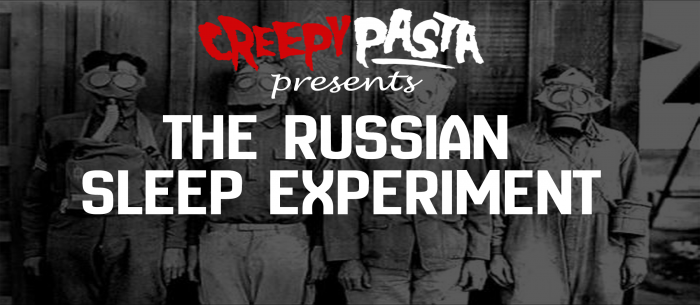 Russian researchers in the late 1940s kept five people awake for fifteen days using an experimental gas based stimulant. They were kept in a ...
Read Now