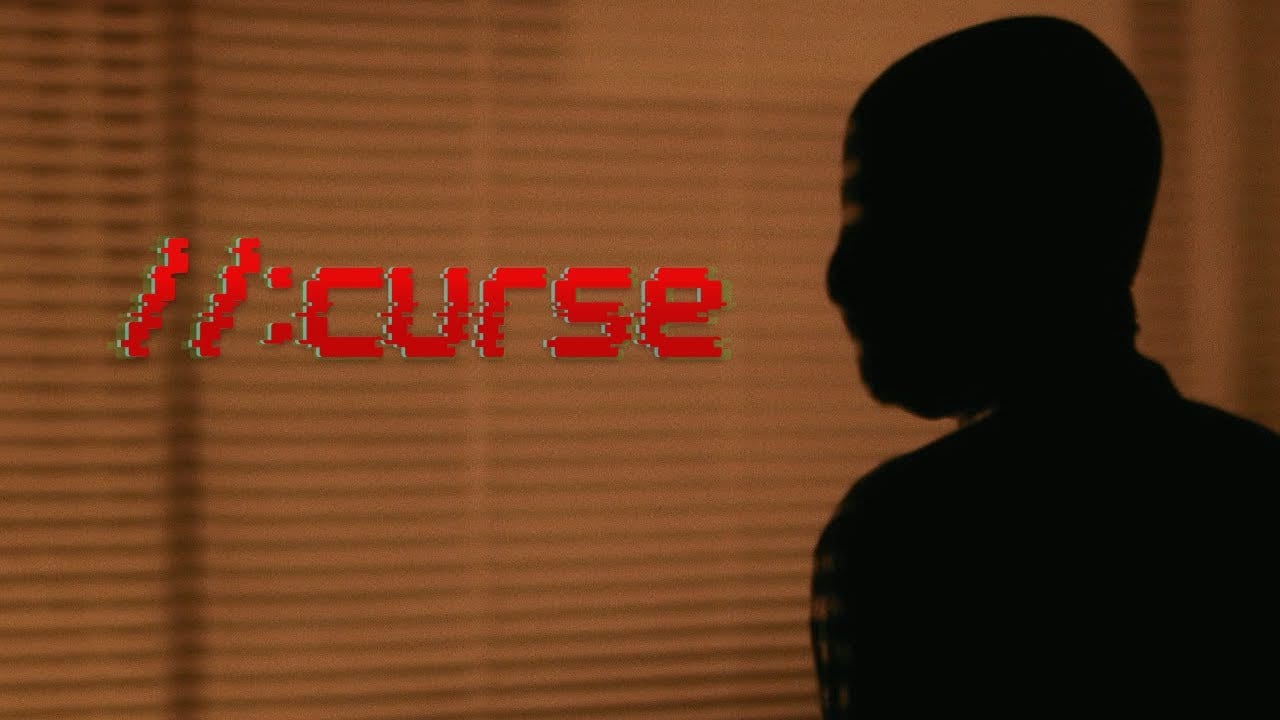 27 Mar

Curse
Share this creepypasta on social media!
📅 Published on March 27, 2019
"Curse"
Written by
Estimated reading time —

4

minutes
[embedyt] https://www.youtube.com/watch?v=T0h8uQ-Wtd0[/embedyt]
A group of friends find themselves the center of attention when a scorned ex-boyfriend utilizes the dark web to exact revenge.
"The Curse" by Hawthorne House Films. Reach the filmmakers on Twitter:
https://twitter.com/hawthornemovies
Presented by Creepypasta.com.
Directed by
STEPHEN WOLFE
Written by
PAXTON GILMORE
STARRING:
AMANDA VIOLA as Diane
TIM ROBINSON as Rudy
DANIELLE POWELL as Maddie
DAVID GORENA as Keith
JUSTIN HERMAN as Alan
MAKENNA TIMM as Sarah
NICK HIRSCH as The Hacker
IGNACIO ELMISSIL ALVAREZ as Male Victim
Goon Voices
CARSON BECK
TOMMY KEAVY
NICK HIRSCH
Executive Producers
TIM ROBINSON
CONNOR COLEBROOK
STEPHEN WOLFE
JUSTIN HERMAN
Associate Producer
CARLOS M. TOVAR
Director of Photography
CONNOR COLEBROOK
Unit Production Manager
CODY GARRETT
First Assistant Director
TIM ROBINSON
Second Assistant Director
JUSTIN HERMAN
First Assistant Camera
JOE ADAMS
Second Assistant Camera
MAKENNA TIMM
Grips
TIM ROBINSON
JUSTIN HERMAN
JOE ADAMS
Special Effects Artist
TRICIA HEAL
Production Assistants
NIOBE ENGMAN
MICHELLE ZEILINER
IGNACIO ELMISSIL ALVAREZ
MAKENNA TIMM
Catering by
GABRIELLA RUIZ DE CHAVEZ
MICHELLE ZEILINER
Film Editing by
GEORGE HERAS
Music by
ANDRE RICHARDS
IGNACIO ELMISSIL ALVAREZ
JUSTIN HERMAN
Visual Effects Compositor
JUAN VERA JR.
Post Sound Design & Re-Recording Mixers
CESAR MORENO
LUKE BISHOP
Digital Colorist
ALEX ROTHAUSER
Post-Production Coordinator
JOHN DEJESUS
Featured on the official Creepypasta.com YouTube channel.
AUDIO TRANSCRIPT (MAY CONTAIN ERRORS)
[Music]
you know that guy have a seat yeah he's
ready to get weird at first it was a
good weird but I don't know here brother
this guy he's getting really creepy
[Music]
Wow hello stop fucking calling me imam
yeah but that guy was on you oh yeah
stopped
now I think he's following me I've been
out a few times alone with my friends
and he's there and the police can't do
anything because he hasn't threatened me
yet but I don't even want to leave my
house anymore I'm so freaked out I don't
know what to do
[Music]
no we're just wrapping up
you
this is Alan he likes beer and beans
what's the password bitches I like that
but that's not the password you got one
more guess what's the password please no
it's one month free
you know about it I gotta get this no I
gotta get this for for my purposes
document she goes
[Music]
is it him I think so
you know read it
[Music]
hey hey is anyone heard from Sarah
no why he
hey y'all heard from Sara know why she
wasn't at school and I've been trying to
call her but she won't answer me back
she won't call me back
I'm sure everything's fine I'm sure
she's okay yeah I want to believe that
but I can't stop thinking about these
threats at Diane's making what threats
what is he talking about
I've been getting these emails and I
thought they were blue she appears it's
probably all of this dude look
stuff got a little intense today and I
think maybe we don't need to be a little
concerned couple days ago my phone rang
there was nobody on the line but it was
fucking death metal planes that happened
to me too it was just really loud music
baby why didn't you tell me I'm sorry it
was the middle of the night I didn't
think it was important
look calm down okay all of you will just
get it together give her another call
I'm sure everything's okay I've been
calling her for fuckin hour Alan no it's
way too soon this happened earlier today
right I'm sure she's fine
fuck you Allensworth 'trying what the
fuck did you from to start it sounded
like everybody said
oh she's calling me baby come on
baby
Oh God
what are you doing
[Music]
I get the cops man there's not much time
look I understand hider sandwich come
back let's let's make a plan okay
analise take your phone away that's how
he's tracking me I won't be safe with
him I understand but you're not gonna be
safe without it nobody's fucking safe
anymore man
[Music]
[Music]
where's Keith just goes honk on please
okay my god
try calling the police
hey Diane
yeah
can I just stay with you hello sir
calling from 1519 Casper Road possible
homicide I don't know just is he calling
the police
okay thank you hurry are they on their
way why do you have a gun
look I follow Keith down to the parking
garage he just went around the corner I
I feel like he's gone and I just thought
I don't know what to do you never told
me you at a gun what the fuck is wrong
with your friend's missing and this is
what you're worried about
stay here
who is that
Rudy don't answer it
Oh God
you sick shit fuck up and I did not do
that she's one of guys into this fucking
better you're talking about I know
everything don't fucking lie to my face
that guy in the video she was fucking
runs a file a group of hackers who kill
people for money and put it on the
Internet
they said if I didn't put up the cameras
I was next it's not my fucking fault
it's true we date okay I didn't even
know his name we just met the chatter
the attention then when I found out he
was into I stopped seeing him
a gang we're almost done here we've
already accumulated 30,000 and 22 of
yours and we're not even done with Cape
yet and there you have it Rudy
Madeline watching the two of you such a
pleasure
Alan you know that you blended those
cameras all on your own so we've decided
not to despair you despite your
cooperation and Diane there's a song I
want you to hear so please come see me
soon
[Music]
thanks for all the help
oh come here come here come here
well now this has been so much fun
I'm just getting a thrill about
entertaining the masses you still think
this is about you this is so much bigger
than you now fifty thousand viewers on
this little escapade and I'm just
getting started
I'll see you soon Diane we have so much
to do
[Music]