Share this creepypasta on social media!
David Feuling
Estimated reading time —

2

minutes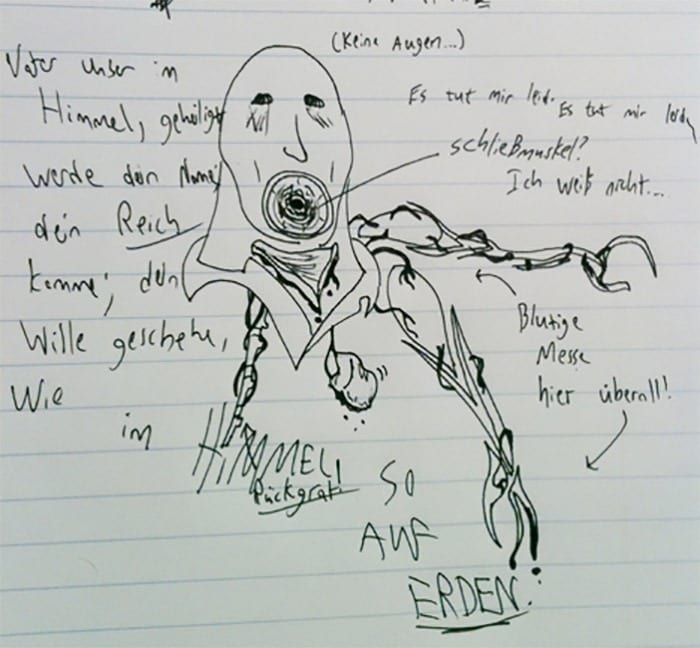 The image above is a sketch by Maximilian Schäfer, a criminally insane arsonist formerly committed to the now-defunct Gelassenheit Asylum outside the city of Linz, Austria. Weeks previous to his violent suicide, Max began complaining to staff about an unpleasant visitor who was arriving daily to harass him. According to Max, the visitor "smelled very bad, and had a nasty temperament."
Doctors at the facility knew that no visitors had been granted access to Schäfer since his arrival, and began to question him about the nature of his imagined outside contact. When plied for specifics, however, Max would consistently become too agitated to speak. He would often act out violently against any staff that happened to be nearby. In an attempt to help Max overcome his anxiety, therapeutic hypnosis was induced and the patient was encouraged to express the nature of his "visitor" as straightforwardly as possible.
The session lasted only half an hour, during which Max worked laboriously on the illustration seen above. After thirty minutes of sketching, Max suddenly became visibly disconcerted. Despite being heavily sedated to achieve a hypnotic state, he began smashing his forehead repeatedly against the surface of the floor with as much force as he could muster. Despite an immediate response in restraining Mr. Schäfer and treating his injuries, Max quickly succumbed to the catastrophic damage he had done to his brain and skull.
The staff of Gelassenheit was advised to report any "visitors" mentioned by other patients in the weeks following the incident. They were also instructed by supervisors to discourage patient rumors about "foul-smelling strangers" roaming the asylum's wards at night. Still, nothing helped to prevent the rash of suicides that shook Gelassenheit over the course of the following months. It was when the staff began to take their own lives alongside their patients that the property was finally abandoned.
---
Credit: David Feuling (Amazon • Twitter • Facebook • Reddit • Patreon)
This story was submitted to Creepypasta.com by a fellow reader. To submit your own creepypasta tale for consideration and publication to this site, visit our submissions page today.
Check out David Feuling's critically-acclaimed trilogy of novellas, The American Demon Waltz, now available on Amazon.com.
All three novellas in the trilogy described below are included in the compilation:
"Bravo Juliet" is a survival horror military thriller, and the first novella by acclaimed fiction author, David Feuling. It tells the story of an elite soldier serving under US Army Special Project: Acrylic Geist, before she is betrayed and left to die in the wilderness of war-torn Vietnam. Brutal injuries, debilitating sickness, and the growing Lovecraftian threat of "The Maw" test not only Bobby's will to survive, but her grasp on sanity itself.
"Witness to Those Waiting" is the second book in the "Bravo Juliet" series. Master Specialist Barbara Balk returns to investigate the subterranean mazes carved out beneath Kosovo's towns and streets. From her entry through the Ngordhje churchyard, she must face undead horrors and ancient evils alike in her quest to return to the surface with answers.
"Vechnaya L'Vitsa" pits Corporal Barbara Balk against new foes in the depths of U.S. Covert Command Outpost (USCCO) #241. Leading a team of six soldiers and tasked with defending the experimental LISEMEC superweapon until it is ready to fire, can Bobby hold out long enough while under siege? Her resolve will be tested by supernatural forces, enemy sabotage, and the expansive Antarctic wasteland itself.