Estimated reading time —

3

minutes
You've probably noticed already that the fall rating pumpkins have given way to Christmas stars – and to get us even more in the holiday spirit, it's time for a Christmas giveaway!
I'll admit it: I really like Christmas, so I got a little carried away and bought more stuff to give away than I'd originally intended. So here's hoping that whoever wins this prize package will use it to pass on and celebrate the spirit of holiday giving – in spooky fashion, of course.
ONE winner will receive all of the following items: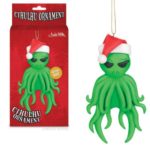 At some point, dread Cthulhu, dead Cthulhu will awake. And the first thing we think he'll do is eat something – 'cause sleeping underwater for many many many years has to create quite a hunger. We're also pretty sure he'll feast on humans and consume us all. Why did we let you know that? Because the holidays are coming, silly, and we want you to get in the holiday mood. And you can, with this Cthulhu Ornament.
Hang a Cthulhu Ornament on the holiday plant of your choosing and let everyone know that you um . . . well, we're not sure what it says about you, but that's why we like you. Each Cthulhu Ornament is made out of plasticized clay-dough and sports a festive Santa Hat. We capitalized "Hat" there because the dread Cthulhu commanded it. Let him/her/it command your holidays, by hanging up a Cthulhu Ornament or few.
Creepy Wrapping Paper Book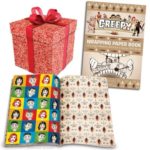 The Creepy Wrapping Paper Book lets you give thoughtful gifts while still being creepy. From a distance this wrapping paper looks normal, but get up close and it'll make your skin crawl. This 13-5/8″ x 9-5/8″ book contains twelve 27″ x 18″ sheets of folded paper. Imagine how much your mom will love the ventriloquist dummies on Mother's Day, your grandpa will enjoy the earwigs at Christmas and your niece or nephew will love being stared at by clowns at their Birthday party. Each sheet is perforated for easy removal. Warning: Contains worms, dental work, suicidal pigs and other images appropriate for any holiday!
Santa Monsters Wrapping Paper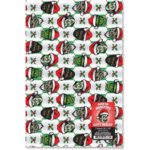 Christmas is the time of year when monsters of all kinds gather together to celebrate in peace and harmony. The festive monsters on this gift wrap are dressed up in Santa hats to exchange gifts. There's a vampire, a werewolf, Frankenstein's monster, and a mummy singing carols and laughing together. If the undead and the accursed can get along this well, why can't we? By the way, the vampire got a toothbrush, the werewolf got a flea collar, the monster got jumper cables and the mummy got a snuggie. Santa Monster Gift Wrap is the wrapping paper preferred in Transylvania.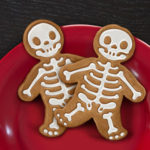 Gingerbread men are a delicious holiday cookie, but the ones we make have a twist. The cookie cutter we use, you see, cuts a wee little man shape out of your rolled gingerbread dough, while the other side presses a cutesy little skeleton into the surface. The finished cookie looks like a Gingerbread x-ray. A GingerDEAD man, if you will.
IN ADDITION TO THE ABOVE ITEMS, StupidDialUp has been generous enough to donate the winner's choice of either an ebook or hard copy of Anecdotes in Ashes. You can read more about the book here!
RULES AND HOW TO ENTER:
THIS CONTEST IS ONLY OPEN TO PEOPLE LIVING IN THE UNITED STATES OR CANADA & WHO ARE 13 YEARS OF AGE OR OLDER (WITH PARENTAL PERMISSION, OF COURSE). This is non-negotiable.
Everyone eligible can click the "Just click enter" option for one free entry into the raffle. That's it, you're entered, boom. If you want to earn MORE entries, however, you may additionally complete the other tasks for more entries. Following the official site's twitter will earn you two more entries; writing a tumblr post about the contest WITH A LINK TO THIS BLOG POST will earn you another 5 entries (please link DIRECTLY to your tumblr post in the required field if you do this; otherwise it won't count); using the automatic widget to send a tweet about the contest will also net you another 5 entries (if you decline to tweet via the widget, make sure to provide a direct link to the tweet you created – and make sure the tweet links back to this post). Yes, you can do all of these tasks if you want to for a total of 14 entries or you can do only one, or two, or three… the only REQUIRED entry is the "Just click enter" option!
The extra giveaway for the book will be handled entirely by StupidDialUp, so by entering you give me permission to forward your email address to him if you are the winner. He will then contact the winner and work out the details (ebook or hard copy and delivery of your choice) without my involvement. The Badasses of Fiction collection will be delivered separately from the book, so please remember this and don't freak out if you win and the prizes show up at different times!
If you're ready to enter, just use the widget below!
*Special thanks to StupidDialUp for his kickass donation!
*Amazon and ThinkGeek affiliate links are present in this post; thank you to anyone who purchases via our referral codes!
Copyright Statement: Unless explicitly stated, all stories published on Creepypasta.com are the property of (and under copyright to) their respective authors, and may not be narrated or performed under any circumstance.