01 Aug

August 2016 Discussion Post: Which Creepypasta Do You Most Fear?

This month's discussion topic is a mash-up of two suggestions, from Anonymous and Mockingbird: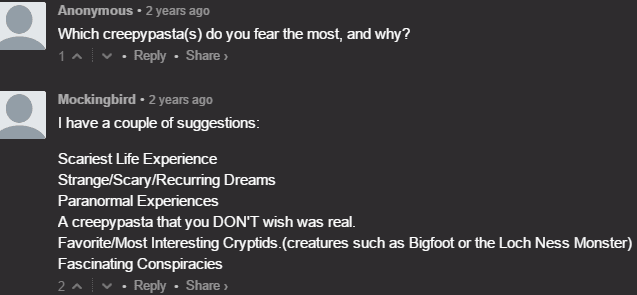 The way I see it, it's likely that whichever creepypasta you personally find the most unsettling probably matches up with the creepypasta that you'd least want to be real – or at the very least, there's probably some serious overlap, right?
So this month, please tell us which creepypasta(s) have legitimately creeped you out the most – and why you think that might be the case!
Please share links, as always, if the creepypasta in question is not one that's hosted on this particular site. Share with the class!
As always, be polite and respectful, and have fun with the topic! I look forward to reading everyone's answers.
🔔 More stories from author:
Rate this story:
Creepypasta.com is proud to accept horror fiction and true scary story submissions year-round, from both amateur and published authors. To submit your original work for consideration, please visit our story submissions page today.
Copyright Statement: Unless explictly stated, all stories published on Creepypasta.com are the property of (and under copyright to) their respective authors, and may not be narrated or performed, adapted to film, television or audio mediums, republished in a print or electronic book, reposted on any other website, blog, or online platform, or otherwise monetized without the express written consent of its author(s).
MORE STORIES FROM AUTHOR