12 Apr

Sarah O'Bannon

Coffins used to be built with holes in them, attached to six feet of copper tubing and a bell. The tubing would allow air for victims buried under the mistaken impression they were dead. Harold, the Oakdale gravedigger, upon hearing a bell, went to go see if it was children pretending to be spirits. Sometimes it was also the wind. This time it wasn't either. A voice from below begged, pleaded to be unburied.

"You Sarah O'Bannon?" Yes! the voice assured.

"You were born on September 17, 1827?"

"Yes!"

"The gravestone here says you died on February 19?"

"No I'm alive, it was a mistake! Dig me up, set me free!"

"Sorry about this, ma'am," Harold said, stepping on the bell to silence it and plugging up the copper tube with dirt. "But this is August. Whatever you is down there, you ain't alive no more, and you ain't comin' up."

CREDIT: Anonymous
🔔 More stories from author: Anonymous
Rate this story:
Creepypasta.com is proud to accept horror fiction and true scary story submissions year-round, from both amateur and published authors. To submit your original work for consideration, please visit our story submissions page today.
Copyright Statement: Unless explictly stated, all stories published on Creepypasta.com are the property of (and under copyright to) their respective authors, and may not be narrated or performed, adapted to film, television or audio mediums, republished in a print or electronic book, reposted on any other website, blog, or online platform, or otherwise monetized without the express written consent of its author(s).
RELATED POSTS YOU MIGHT ENJOY:
MORE STORIES FROM AUTHOR Anonymous
There's a story about a "lost" episode of Seinfeld floating around the internet. The episode was supposed to air around season six, but it ...
Read Now
Chief Scientist's Log 12/7/2007 12:31 AM A new find was brought into the lab today. Men working the demolition of a condemned warehouse at ...
Read Now
Look behind you. What do you see? Invariably, there will be a wall somewhere in your view. Now stare deeply into the space on ...
Read Now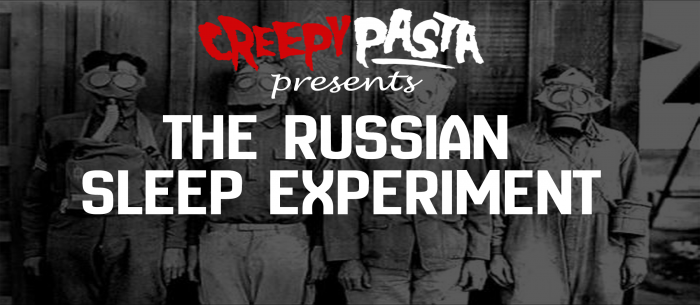 Russian researchers in the late 1940s kept five people awake for fifteen days using an experimental gas based stimulant. They were kept in a ...
Read Now